Upcoming Event
Title :
KenTrade Workshop
How to build a low-risk high return portfolio? PART 3
(Saturday)
Date :
30 Nov 2019
Time :
02:00 PM - 05:00 PM
Location :
Lower Ground Floor
Bursa Malaysia
Theatrette Room
Kuala Lumpur
Fee :
FREE
Description :
This workshop is open to Kenanga equity trading account active client.
One must have the account with KenTrade and perform at least one trade from the past three months.
Registration is on first come first served basis. Walk-in without prior registration is not encouraged.
RM20 will be imposed on walk in without registration.
RM10 will be imposed on non Kenanga equity trading account who wants to attend the workshop.
In this final part of a 3 workshop series, we look at how professional fund managers around the work execute portfolios. We will look at the different types of portfolio and the merits and disadvatanges to it. Then we look at whether it is wise to time the market and keeping cash on the side to wait for the market to tank. We further look at the expected return using different kind of portfolio strategies and the differences in between a concentration vs diversification (how many stocks)
Content
Unit trust vs Own Stock Portfolio Construction

Is keeping cash at all times and wait for the market to crash to buy at the lowest point a wise move?

Less is More or More is Less in a portfolio stocks
Agenda
| | |
| --- | --- |
| Time | Program |
| 01:30 pm - 02:00 pm | Registration |
| 02:00 pm - 04:45 pm | How to build a low-risk high return portfolio? Part 3 |
| 02:45 pm - 05:00 pm | Q&A Session |
| 05:00 pm | End |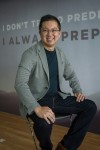 Mr. John Huo
John obtained his Masters of Electrical Engineering & Master of Petroleum Engineering from the University of Technology, Malaysia and Curtin University respectively.
He started off his career by designing and commissioning teams to deliver offshore Oil & Gas production facilities around the region for 10 years.
John passionately wants to see improvement of financial and investment planning in a more holistic way.
He truly believes in building passive income through partial owernship of great companies and thinks individuals are the best fund manager themselves.

Lower Ground Floor, Theatrette
BURSA Malaysia,
Exchange Square,
Bukit Kewangan,
50200 Kuala Lumpur, Malaysia

RM4 Flat

All cancellation must be done within 5 working days before the seminar. Participant can be blacklisted for joining our future events if he or she fails to turn up withot giving prior cancellation notice.

Should you require any clarifications, kindly contact Marketing team @ 603 2172 2888;(Ebiz.KenTrade@kenanga.com.my) during office hour,8:30am to 5:30pm (Monday - Friday).
Registration Form